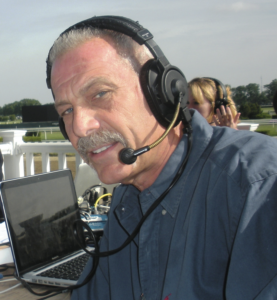 Dr. Gregory Beroza is board-certified in both equine surgery and practice, a rarity among equine veterinary specialists, with 45 years of medical training and clinical experience. He has worked professionally in media for the past 30 years as a journalist, videographer, photographer, on-air talent, and consultant; and has authored over 150 publications.
Dr. Beroza first introduced his 'Talking Horses'® productions and broadcasts in the late 1980s, when he opened his state of the art, full-service, veterinary facility, the Long Island Equine Medical Center PC. Using his acquired pen-name, HorseDoc®, Dr. Beroza lectured extensively at his facility and at local stables and other meeting locations.
In the early 2000s, Dr. Beroza brought his HorseDoc® 'Talking Horses'® to WRHU 88.7FM Radio Hofstra first as a guest and later to host their yearly Belmont Stakes coverage. He was subsequently encouraged to host his own radio show, which continues coverage of his passion, the equestrian world, plus it expands his reporting on all forms of medicine, health, nutrition, fitness, science, and lifestyles.
Related sites –